Description
The Omega TWN30S Twin Gear Juicer's

masticating or "triturating" action actually "chews" your produce between two stainless steel gears at  slow just 160 RPMs,  producing almost no heat for negligible oxidation. This thoroughly crushes, mixes and squeezes your live, organic produce releasing a nutrition-packed juice loaded with vitamins, minerals and living enzymes. Your fruits and veggies self-feed through the twin gears as the they turn for easy juicing. An outlet adjusting knob on the front controls the spring tension so you can squeeze all the juice from the pulp with less pre-cutting as the twin gears chop up all the fibers. You also get two juice screens for adjusting pulp levels. Great for use at home or make commercial-quality juice for your business.
The Omega TWN30S Twin-Gear Juicer can juice anything from wheatgrass and leafy greens to fruits and vegetables — and also can make nut butter, extrude pasta, grind coffee, mince herbs, make baby food and make nut milk. The masticating or triturating action will satisfy your whole family's juicing needs. And while most small appliances are built for just one or two things, the Omega does everything beautifully.
* Vegetable Juicer
* Wheatgrass Juicer
* Fruit Juicer
* Minces and chops
* Make Frozen Desserts
* Nut Butters
* Pasta Extruder
* Baby Food
* Food Mill
Versatile Multi-Function Juicer
The Omega TWN30S Twin Gear Juicer is a low speed multi-purpose juicer that actually masticates
or "chews" your fruits and veggies, slowly squeezing the juice out to minimize oxidation and friction/heat. Works great for fruits or vegetables as well for wheatgrass juice. It also minces and chops, grinds and even makes almond milk! Make fresh, wholesome juice from celery, carrots, parsley, spinach, wheatgrass, apple, orange, kale, cucumber, ginger, sprouts and many other leafy greens! It can also extract from less obvious things such as pine needles and aloe. The slow-speed protects flavors and  nutrition from being damaged by heat and oxidation. This juicer is also very easy to clean … just 2-3 minutes and you're finished! Also makes nut butters. Constructed from strong FDA-approved BPA-Free plastics. 5 Year Parts Warranty, 10 Year Motor Warranty.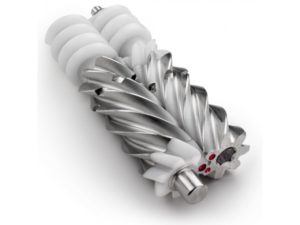 The "Heart" of the The Omega TWN30S twin-gear juicer  are the stainless steel gears.

With the "blank" cone you can also use the Omega TWN30 Twin Gear Juicer as a food processor! Make nut butters, frozen fruit sorbets, baby foods and grind other foods.
NOTE: Inventory from other dealers may not include this FREE attachment.
The Omega TWN30S Twin Gear Juicer:

| | | |
| --- | --- | --- |
|   | | Juices carrots, celery, cabbage, cucumbers, beets, yams, jicama, sprouts such as kale, parsley, spinach, comfrey and more. |
|    | | Juices apples, grapes, pears, melons, oranges, lemons and more. |
|   | | Juices Wheatgrass and other leafy green very dry pulp and , a high yield of raw, fresh, nutritious juice. |
|    | | Grinds & mixes seasonings like green onion, garlic, ginger, red pepper, radish, to create delicious, nutritious salsas — or mince meats or fish. |
| | | Makes delicious frozen desserts. |
| | | Makes noodles and pasta. You can add vegetable juice to the dough. Make rice cakes (mochi), a type of glutinous rice cake using steamed rice. |
|   | | Grinds coffee beans. Some beans are more oily and can be ground after drying for a day. |
Built to Higher Commercial Quality Standards
The Omega TWN30S was built for light duty commercial use. All parts are  approved by ETL for use in a commercial business. The TWN30S has a one hour duty-cycle and can be used for a full hour before you must do a cool-down. For commercial use it comes with a 1-year warranty. Consumer use includes an industry-leading 15-year warranty.