Description
The Tribest Sedona Digital Dehydrator — professional-quality, 9-tray all-digital design blows away the competition with advanced features that they haven't even thought of!
The Sedona Digital Dehydrator is from the makers of the world-famous Greenstar Elite Juicer! Use Coupon Code Sedona20 for even more savings! Also, choose the amazing Combo Model now available with a special setting just for "Raw Food" recipes!

BPA-Free Design
FREE: 9 Free Mesh Sheets
All Digital Controls
Exclusive Glass Door
Exclusive "TST" Technology (Combo Model)
Exclusive 5-Year Warranty
Free: my popular $19.95 e-book
Tray Compartment Divider
My Exclusive 30-Day Personal Guarantee
Dual-chamber, Dual Fan Technology
Free subscription to my RawFoodLife Newsletter
(published soon)
The Sedona Digital Dehydrator is also available with latest TST Technology (combo model only)
First, of course, the Sedona Digital Dehydrator is a horizontal air flow design —  maximizing efficiency and air flow. Unlike cheaper models, the exclusive dual-chamber, dual fan design dehydrates more evenly and accurately without tedious rotating trays, which you often have to do with the Sedona's closest competitor.
Plus, the Sedona Digital Dehydrator is the first and only dehydrator in its class to offer the accuracy of a computer-controlled digital timer with up to 150 hours of continuous operation. Even Sedona's closest competitor only offers a 26 hour manual timer at this price point In addition, you can control the Sedona's exclusive dual chambers either together or independently.
Also Available– "TST" Technology (Combo Model only)
The Combo Model of the Sedona Digital Dehydrator
features also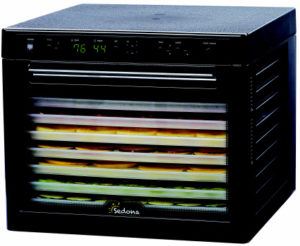 TST technology — a unique Two-Stage Sequential Temperature Timer. With TST you can program your Sedona Digital Dehydrator to automatically operate in 3 modes:
Fast Mode – Temperature stays consistent up to 155 F
Raw Mode – Lower Temperature up to 118F
Combo Mode – Begin in Fast Mode at a higher temp to get wet items which lower internal temps to dry out a bit, then and after a period of time automatically convert to Raw Mode's lower, enzyme-protecting temps.
TST Technology lets you to control the dehydration process for almost any type of produce. You can set the Two-Stage Sequential Temperature-Timer and watch it run in "Fast" mode of up to 155°F for the first few hours,when your items are still very wet (which lowers internal temps). Then the Sedona automatically switches to "Raw" mode" for a temp of just 118°F or less for the remaining dehydration time — preserving your raw, living enzymes!
The Tribest Sedona Dehydrator is engineered by for maximum durability. Tribest have has offering healthy-living appliances for over 20 years. The Sedona digital dehydrator is their latest product designed to help you discover a healthier lifestyle. The 5 year warranty, the longest in the industry, demonstrates Tribest's commitment that your dehydrator will provide many years of trouble-free operation.On/Off Switch easily turns Sedona on and off without  disconnecting the power cord.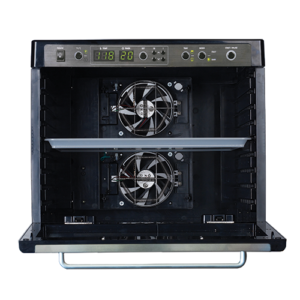 Exclusive Dual Fan, Dual Chamber Design
The Tribest Sedona Digital Dehydrator is the first  to offer a total of 600 watts using two sets of 300-watt independent fans, two heating coils, and two heat sensors, controlled digitally and grouped together to form two dehydrating chambers. Each heat sensor monitors the current temperature of each  chamber – designed to improve the efficiency and overall quality of circulated air during the dehydration process – and eliminating the tedious, annoying tray swapping required by our famous competition.The two drying chambers can operate independently or simultaneously giving you the option to dehydrate up to nine trays of your favorite dehydrated recipes at once.
Because the Sedona digital dehydrator can be set to use only one chamber/heater, less energy is used when dehydrating smaller batches of your favorite recipes, overall noise is reduced and heated air is managed more accurately and distributed more evenly. You can choose to dehydrate four, five or nine trays of food at a time for small to large batches of your favorite recipes. Additionally, set Sedona's already quiet fans to day or night mode for extreme quiet operation. Combined, the two powerful dual 5-inch fans provide 600 watts of drying power – literally "blowing away" the competition.
Exclusive All-Digital Computer-Controlled Technology (Combo Model only)
TST technology — Two-Stage Sequential Temperature Timer
Display temperature in Fahrenheit or Celsius
Show actual temperature inside temperature you set.
Timer window shows count-down timer or hours you set
Set button sets temperature or time.
Up/Down button sets the temperature or timer
Tray button lets you run one or two chambers
Mode button lets you to select day or night mode
(full speed fans in day or slower, quieter speeds at night mode)
Start/Pause button
Some fruits and vegetables with high water contents need a higher initial dehydrating temperature to prevent fermentation. Because of their water content, the internal temperature of wet foods rises at a very slow rate. For this you want to ideally start at a higher temperature for the first few hours to protect the nutrients in your food and then lower the temperature to complete the dehydration process. With other dehydrators that don't have TST you have to set an alarm to remind yourself to come back to lower the temperature. With the TST, this chore is handled automatically.
Most other dehydrators that claim to be digital actually only offer a digital timers. They don't really control the temperature inside. The Sedona Digital Dehydrator is the only dehydrator that offers an all digital control panel and is fully automated to accurately control the way your food is dehydrated INSIDE the dehydrator.

Remember, different foods require different drying temperatures to properly preserve their nutrition and flavor. The Sedona has a very accurate computer-controlled digital thermostat to make sure you are using the proper temperature. Too high a temperature can kill enzymes, reduce flavor and destroy vitamins. Too low a temperature can allow bacteria and mold to grow, which needless to say is not a good thing for a dehydrator!
FEATURES
Temperature Display consistently displays the current temperature  in Fahrenheit (°F) or in Celsius (°C) in each drying chamber.
Optional TST technology — Two-Stage Sequential Temperature Timer (Combo Model)
Day/Night Setting lets you adjust the digital timer up to 99 hours or set to continuous mode for 150 hours and lets the Sedona run more quietly at night.
Energy Efficient Dual Fan Technology lets you control each drying chamber together or individually for optimum performance. Now you can efficiently dehydrate four to five trays for smaller batches of your favorite dehydrated recipes; conserving energy.
Glass Door lets you monitor the dehydration process with your own eyes without having to open the door.
Digital Temperature Control lets you accurately adjust to your preferred setting for the most accurate and efficient operation.
Electronic Digital Display accurately and easily sets the Sedona to your preferred temperature, displaying the current drying temperature for your convenience.
Digital Timer adjust dehydration times up to 150 hours of uninterrupted operation.
Compact Design fits in the space of your discarded microwave.
Dual Fan, Dual Chamber Technology lets you to use one or both fan-heater-sets at a time at one temperature setting for small to large batches of food dehydration.
BPA Free Plastic Trays and Mesh Screens are designed to optimize the dehydration area. Additionally, Sedona's casing is also BPA Free. Compared to other dehydrators which use harmful black dyes in their trays to help mask food stains, Sedona only uses clear plastic trays to make cleaning easier.
Side Air Vents  allow for both even and efficient air flow and circulation.
How to Use a Dehydrator
Before you start dehydrating you should know the difference between air temperature and food temperature. You see, when you first start dehydrating something, evaporation keeps the food in the dehydrator COOLER than the temperature of the air in the dehydrator. In general, food will be around 20° F cooler.
I recommend setting your dehydrator at a higher temperature for a few hours then turning it down. This helps avoid fermentation and reduces the time food is in the dehydrator – the longer you leave something in  a dehydrator the greater the risk that enzymes can be destroyed or mold can grow, even at lower temperatures.
Temperatures and times also vary geographically. You need  to experiment see what works best for you and where you live. Some humid areas need higher temperatures. Dry, hot arid areas may need lower! Personally, I start at 115-125° F depending on thickness and moisture  content, and then turn the thermostat down to 105-110° F until the recipe is as dry as I want.
Additional Suggestions