Description
The Omega VSJ843QS/RS Vertical Juicers are the slowest you can get!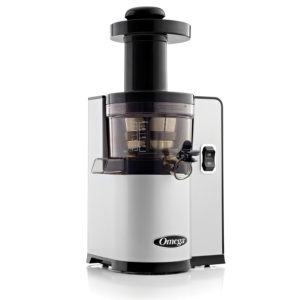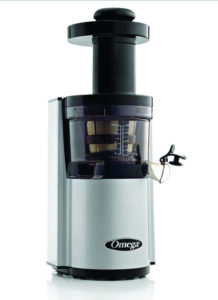 The Omega VSJ843QS/RS Vertical Juicers are their lowest speed juicers at a mere 43 RPM. Choose either the original model (right) or the newer more compact version (left). Aside from the case and price, all other features are identical.
You get a dual-edge auger for even more juice, breaking down the plant down fibers for a smoother, nutrient-dense fresher juice like no other. Make the most nutritious juice possible from you non-GMO or organic fruits, vegetables, leafy greens and even wheatgrass. Also makes delicious fresh nut milk. Automatic pulp ejection lets you juice continuously. while the automatic cleaning system keeps the screen clear for maximum juicing efficiency.
Omega VSJ843QS/RS Juicer features the lowest speed yet for less heat or oxidation.
A 43RPM motor is approx. 50% slower than the first vertical masticating juicers.
A newer dual-edge auger gets more juice and less pulp for a smoother, more nutrient-dense juice.
The juicer's slow speed and gentle squeezing keeps the all-important enzymes alive by minimizing heat and oxidation. This also increases the shelf life of your juice to 2-3 days in the fridge.
Make fresh, organic, alive juice from fruits, vegetables, leafy greens and wheatgrass. Also make nut milk.
Automatic pulp ejection lets you can juice continuously.
An auto-cleaning system keeps the screen clear to maximize efficiency, while minimizing the clean-up when you're done.
The Omega VSJ843Q/R/ offers you the best juice extraction and the healthiest, freshest juice you can get.
The Omega VSJ843QS/RS Juicer features a two-stage crushing,
single auger, masticating action that will satisfy your whole family's juicing needs. And while most small appliances are built for just one or two things, the Omega does everything beautifully.
The Omega VSJ843QS/RS is a low speed multi-purpose, single gear juicer that actually masticates
or "chews" your fruits and veggies, slowly squeezing the juice out to minimize oxidation and friction/heat. Works great as a fruit or vegetable juicer as well for wheatgrass juice. It also minces and chops, grinds and even makes almond milk! Make fresh, wholesome juice from celery, carrots, parsley, spinach, wheatgrass, apple, orange, kale, cucumber, ginger, sprouts and many other leafy greens! It can also extract from less obvious things such as pine needles and aloe. The slow-speed protects flavors and  nutrition from being damaged by heat and oxidation. This juicer is also very easy to clean … just 2-3 minutes and you're finished. Constructed from strong FDA-approved BPA-Free plastics.
The "Heart" of the VHS843 Juicer is a Heavy Duty GE Ultem auger which is 8x stronger than the melamine augers on other models. As a result, the VSJ843 Juicer also features a 15-year warranty — the longest you can get on any juicer.
Compare the Omega VSJ843QS/RS with other Slow Juicers
Durable GE ULTEM auger is 8 times stronger than melamine.
Single Gear Masticating Juice Extraction.
Slow Speed 43 RPM motor "chews" plant fibers to get the freshest vitamins, enzymes and minerals for you to enjoy.
Continuous juicing with Automatic Pulp Ejection
High juice yield gives you very dry pulp.
Built in "reverse" to prevent clogging.
Single Auger action makes less foam than even Twin Gears models.
No heat, less air reduces oxidation, preserves nutrition.
Heavy duty design uses the best quality materials.
UL and CUL approved.
Engineered for quiet operation and long life.
User friendly – easy to assemble, operate and clean.
Little or no heat & oxidation to damage you nutrients.
Longest 15-Year Warranty.