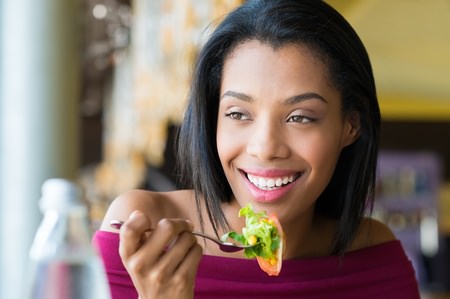 These naturally cool, cleansing raw food salad recipes are perfect for any season. Ingredients should always be fresh, organically grown and, of course, eaten raw.
Super Salad
Lettuce leaves
Spinach leaves
Grated carrot
Grated beet
Raw corn cut from cob
Mung bean sprouts
Alfalfa sproutsToss all ingredients together. Shredded cabbage or grated  zucchini squash may also be used.

Citrus Salad Dressing
1/4 cup orange juice
1/4 cup grapefruit juice
1/4 cup safflower oilPut all the ingredients into a jar. Screw the lid on tightly.  Shake vigorously. Makes 3/4 cup.
Marinated Mushrooms
1 lb. mushrooms, cleaned and trimmed
but left whole
1/2 cup extra-virgin olive oil
Juice of 2 lemons
2 cloves garlic, pressed
6 peppercorns (whole or crushed, whichever
you prefer)
1/2 tsp. sea saltIn a bowl, whisk together the oil, lemon juice, garlic, pepper and salt. Add the mushrooms. Let sit at room temperature for several  hours, stirring occasionally, then cover and refrigerate. These mushrooms will keep for several days.

Pecan Pate with Veggie Chips
2 cups pecans
1/4 to 1/2 red onion
1 tsp. poultry spice
4 to 6 fresh basil leaves
1/4 to 1/2 cup grated carrots, beets, and/or squash (optional)
1/2 cup finely minced parsley

Garnishes:
Romaine lettuce leaves
Purple and/or green cabbage chips
Red bell pepper wedges
Cucumber slices

In a food processor fitted with an S blade, blend the pecans, onion, poultry spice, and basil leaves. Thin with enough water to make a consistency like pate. You can also omit the water, add the  optional grated veggies into the processor, and blend for a short time to create a moister pate.

Stir in the minced parsley and adjust the seasonings to taste. Cut the romaine, cabbage, red bell pepper, and cucumber into chip-size  pieces. Serve the pate on a platter surrounded by the veggie chips.

Seed Cheese Dip

Cheese Dip:
4 cups sunflower seeds
4 to 6 cups purified water
1 tsp. granulated garlic
1 onion, minced

Veggie Chips
Sliced jicama
Sliced veggies, fresh, and in season

Soak the sunflower seeds for 12 hours; rinse. In a blender,  process all the cheese dip ingredients, adding enough water to thin  the mixture. The more water, the larger the volume of seed cheese.

Pour the mixture into a large, wide-mouthed glass jar  and cover with a cloth napkin or clean dishcloth. Leave on the counter  overnight, and let ferment into seed cheese.

Serve the cheese at room temperature, or chill and serve  on a platter surrounded by jicama chips (or any other crunchy vegetable you like).

Curried, Sprouted Lentil Salad
2 tsp. Liquid Aminos
1 Tbs. lemon juice
1 clove garlic, minced
1 tsp. curry powder, or to taste
2 cups sprouted lentils
1/2 cup chopped onion

Use this salad for either a quick and simple lunch or  as an excellent side dish for a more elaborate meal.

This salad also makes a tasty filling for an avocado or  pepper half. In a small bowl, mix the liquid aminos, lemon juice, garlic and curry.

In a separate mixing bowl, combine lentils and onions;  toss. Pour dressing over the lentils; toss again.

Tomato Salad Dressing
2-1/2 tomatoes (1/2 lb.)
3 fl. oz. olive oil
6 sprigs of parsley

Roughly chop tomatoes and parsley. Blenderize all ingredients  together until smooth. It will keep in the refrigerator for a couple of days. Makes 1-1/2 cups.

Cabbage Roll-Ups
1 large cabbage leaf
1/2 avocado, cut in chunks
2 olives, chopped Lentil, pea and/or
fenugreek sprouts
Lemon juice
Liquid Aminos
Dulse flakes
Slivered red pepper
SproutsA cabbage leaf makes a great sandwich for any filling. Softening the cabbage makes it easier to roll the filling up in it. Any guacamole, pate or salad recipe would be delicious stuffed in a cabbage or lettuce roll.

Soften the cabbage leaf by putting it in a dehydrator for 10 minutes or dipping the whole leaf in hot water until soft; set  aside. In a small bowl, mash the avocado with a fork and add the olives,  sprouts, lemon juice, Liquid Amino's and dulse to taste.

Place the mixture on the cabbage leaf. Top with red peppers, sprouts and any other vegetables you have on hand; roll up and enjoy.

Minty Cucumber Salad
2 cups chopped cucumbers
1/3 cup finely chopped mint
2 Tbs. chopped parsley
1 Tbs. lemon juice
1 Tbs. extra-virgin olive oil or grapeseed oil
3 drops stevia or 1 tsp. maple syrup (optional)

If your cucumber tastes bitter, slice it, place it in  a bowl, sprinkle it with sea salt and set a weight on it. A plate with a gallon (4 liter) water jug on top or a ziplock bag filled with water  works well. Leave the cucumber at room temperature for two hours, rinse  it lightly and pat dry, then proceed with the recipe.

Fresh mint is, of course, best to use with this recipe, but dried mint (five teaspoons) will work if you have time to allow the flavors to blend.

In a small serving bowl, combine the cucumbers, mint, parsley, lemon juice and oil. Toss together. Taste and add stevia if   desired. Chill the salad for several hours or overnight. Toss again   before serving.

No-Oil Lemon Herb Dressing
2 Tbs. plus 2 tsp. potato or other starch
1/2 cup water
1/2 cup apple juice
1/2 cup lemon juice
1/4 cup water
1/4 cup apple juice or water
1/4 cup fresh minced herbs or
2 tsp. dried herbs (Italian Seasoning)
1 tsp. celery salt

Combine starch with 1/2 cup cold water and 1/2 cup apple  juice, and dried herbs. if using. Heat, stirring, to thicken. Remove from heat. Mix in lemon juice, celery salt, and 1/4 cup of water. Taste  for balance. Add 1/4 cup of apple juice (or water). Add fresh herbs and whisk. It will be thicker when it has cooled. Adjust liquids and seasonings if necessary. Make a few hours in advance of use. Store in  refrigerator. Makes 2 cups.

Variation:
Replace some of the water with tomato juice.

Halvah
1-1/2 cups almonds
1/2 cup raw tahini
3 Tbs. honey
1 tsp. vanilla
1 Tbs. plus 1 tsp. carob powder

In a food processor, place almonds and process until  finely ground. Add the tahini, honey and vanilla; process thoroughly. Place 1/2 of the mixture in a bowl; set aside. Add carob to the remainder and process.

Press the plain mixture onto a plate or pan until it is 1/4" thick (don't worry about filling the pan, just press the mixture  to the correct thickness). Pat the carob mixture between your hands until it is approximately the same thickness.

Place the carob mixture over the plain mixture. Press the two mixtures together to make a 1/2-inch thick, two-colored slab of halvah.

Chill the halvah in the refrigerator for 1 hour or more,  then cut it into bite-sized pieces and roll into little balls. Yields 20-24 pieces.
Also Read: