Description
How an organic almond farmer & his family work together to bring you the best certified organic almonds available.
We all know that eating raw, organic almonds is the healthiest way to get all the many benefits available from almonds. But farmers face many difficult challenges growing organic almonds — from weed control and soil health to irrigation and disease control. Though it costs a lot of money to grow certified organic almonds, is reassures people that Capay Hills almonds are the best you can get, tells you that the farmer relies on sustainable practices and guarantees that they never use synthetic herbicides.
First, to prevent harmful weeds they plant a beneficial cover crop selected to address the farmer's most important needs, such as adding organic material and nitrogen and aiding weed block, erosion control, etc.  The Paddocks use various legume cover crops to fix nitrogen and help fertilize the soil.
The Paddocks use sheep to mow down their cover crop that are not vaccinated or treated with any antibiotics. The sheep also help with soil fertility.
Maintaining Healthy Soil. 
Of course, the soil needs to be a living home for microorganisms. The Paddocks work hard to achieve a balanced soil condition containing all the nutrients and minerals that certified organic almonds need. Analyzing leaf samples helps them fine tune the micronutrients to achieve the best overall health of the trees. Right after harvest thry take soil samples and test for about 20 different compounds.  Then they spread 300,000 lbs. of organic compost and gypsum plus a little aged horse manure to build the soil structure, add nutrients, increase water holding capacity, improve aeration, nurture beneficial soil organisms, and stabilize soil pH.
In the spring they take more samples to see how the soil is doing. In the summer we inject a liquid form of compost to help with microbial growth, nitrogen uptake and soil stability. The microbial growth is important because the microbes help breakdown insoluble nitrogen and make it available to the trees.
The Importance of Clean, Pure Water
The Paddocks use water from a well that's 300 feet deep which they test regularly for nitrates, e-coli, and other elements. They use sub-surface drip irrigation which is buried 6-8 inches underground so it has virtually no evaporative loss, maximizing water conservation. They also only irrigate when the trees actually needs water — based on testing stem water potential with a pressure chamber invented by a U.C. Davis professor.
The Importance of Beneficial Insects.
Certified organic almonds require cross-pollination with other varieties to produce a crop. The single most important factor in determining a good yield is pollination during the bloom period (February). Bees are particularly critical for moving pollen around their 1,400 trees (three varieties). Fortunately, their next-door neighbor is a bee keeper and his bees enjoy their orchard year-round. To maximize cross pollination, yield, and flavor thry plant three varieties of almonds (Non-Pareil, Fritz, and Monterey). A 2,500 ft. hedgerow provides a natural insectiary for other beneficial insects that help pollinate the trees and eat bad insects.
Another pest problem for almond farmers is rodents, such as squirrels. The Paddocks won't every use any toxic poisons — relying on cats, dogs, traps, and owls to control these pests. They also provide a habitat in their hedgerows for foxes, who love to eat squirrels.
Disease Prevention & Control.
The best disease management practice is disease prevention — keeping the certified organic almonds healthy using several methods:
Promote open tree canopies for good airflow.
Minimize pruning to lessen the number of entries for disease.
Keep the orchard floor as clean as possible.
Don't over-irrigate and needlessly increase canopy humidity.
Plant the trees on mounds to keep the root ball dry.
Remove almonds which did not shake loose during harvest. These almonds are called mummies.
If absolutely necessary, they have a few safe methods to combat disease after infection including some organic fungicides that are available.
Harvesting onto Tarps … Not on the Ground.
Most almond farmers use a machine to shake their trees so the almonds fall directly on the ground, where they are swept up with machine similar to a street sweeper. It's a very dusty, dirty operation that sweeps up everything on the ground, including nuts, branches, dirt, dust, poop, etc. This sweeping process exposes the almonds to soil-borne pathogens.
Instead, the Paddocks use a hydro-mechanical harvester to drop their certified organic almonds onto nice, clean tarps — not the ground — eliminating any chance of their almonds getting mixed with pathogens on the ground. Very few almond farmers are willing to make this extra effort.
"We believe in being good stewards of our land and grow our almonds using sustainable processes following organic certification criteria. We do not use any pesticides, herbicides, or synthetically made fertilizers."
— Brian Paddock

Almonds and Your Heart

Almonds are known best heart health, though they have many other great health qualities. The American Journal of Clinical Nutrition wrote that "Nearly two decades of research shows that almonds can help maintain a healthy heart and healthy cholesterol levels." Nut consumption has been linked to a lower risk for heart disease by several studies that showed an average reduction in the risk of death from heart disease by 37%.
Not available in stores because it is not pasteurized or irradiated — truly raw & organic.
Grown Right on a Family Farm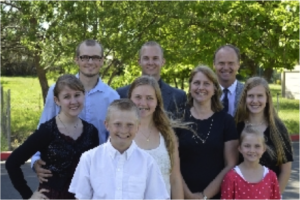 Brian and Gretchen Paddock grow their certified organic almonds in an orchard that was planted over 75 years ago. Capay Hills Orchard, in Esparto California, is an organic family farm specializing in the best almonds you can find! All California almonds must be pasteurized unless you buy directly from the farmer. Pasteurization kills enzymes and degrades nutrition. Capay Hills is a California certified organic almond farm that you can buy from directly using any of the above links, or go to: