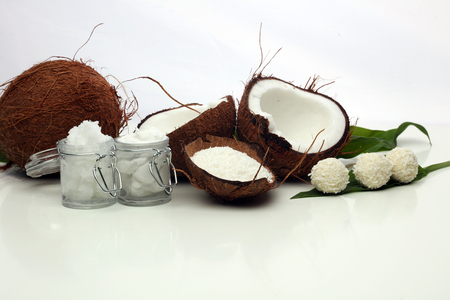 I use raw virgin coconut oil every day. I put some in my smoothies every morning. I add it often to whatever raw food dish I am making. I even keep a jar in the bathroom and add a dollop to my natural PerioBrite toothpaste to brush my teeth with it! It is one of nature's most miraculous foods!
Coconut oil is an edible oil that has been used in tropical areas for thousands of years. Studies on native diets high in coconut oil show that these populations are generally in good health and don't suffer as much from the modern diseases of our culture – where coconut oil is seldom used.
Some of the recent research on coconut oil comes from research on Alzheimer's disease, with reports of people improving or even reversing the effects of Alzheimer's with coconut oil — meanwhile Alzheimer's drug trials continue with no success.
Coconut oil also seems to be effective for people with both type 1 and type 2 diabetes, as well as hypothryroidism. Restricting carbohydrates and increasing coconut oil in the diet has also been shown to help with weight. Other conditions that benefit include candida, various skin conditions and for promoting healthy hair. It has also been shown to help fight bacterial infections and viruses. Finally, athletes and fitness trainers are using coconut oil for sustaining energy levels without stimulants or drugs.
READ THE BOOK:
Virgin Coconut Oil: How it has changed people's lives, and how it can change yours!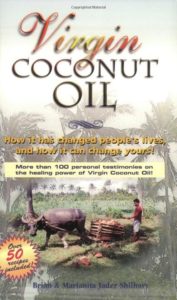 "The most practical book written on the health benefits of coconut oil. Based on years of research and the experience of Brian and Marianita Shilhavy, this book documents how tropical cultures eating a diet high in the saturated fat of coconut oil enjoy long healthy lives. It also shows how a premium Virgin Coconut Oil has changed thousands of lives outside the tropics."
REVIEW: "I absolutely love your book! Several pages into your stories I was so captivated I couldn't put it down. I have been using Tropical Traditions Virgin Coconut Oil and your other products almost exclusively in cooking and exclusively on my skin since 2000, and I have been your cheerleader since that time. From my own experience and research and from the testimonials of the many people to whom I have recommended it, I have no doubt that you are the leading suppliers of the finest, purest Virgin Coconut Oil products in the world. Now, your excellent book will assist all who wonder about its value to share your wisdom and the positive experiences of many people. God bless you both for your tireless service in providing and explaining this ancient health food, which brings so many benefits." — Marilyn Diamond, "Fit for Life"
Brian and Marianita Shilhavy actually lived in a coconut producing area of the Philippines for several years. Marianita grew up on a coconut plantation in a culture that consumed significant amounts of coconut fat. She later went on to earn her degree in nutrition in the Philippines. Brian noticed firsthand the differences between the diet and health of the younger generation and those of Marianita's parents' generation still consuming a traditional diet. This led to years of studying Philippine nutrition and dietary patterns first hand.
EXCERPT FROM INTRODUCTION
"When Marianita revived the traditional way of making coconut oil, as you will read about in Chapter one, only a few left in her home community from her parents' generation still knew how to produce this quality coconut oil that we named "Virgin Coconut Oil." A massive training program had to be instituted to teach the younger generation how to produce this quality product. We were within only one generation of losing this traditional skill. A few years later now, we have shown the world what a traditional skill, producing a quality product that cannot be mass-produced, can do economically for the Philippine economy and what it can do for people's health, as is evidenced by the more than 100 testimonies recorded in this book."
GET THE BOOK:
Virgin Coconut Oil: How it changed lives and can change yours!
See also: