For more almost 20 years I operated this web site without a single product. I just kept writing about what I love, sharing my experience and knowledge periodically. Now the site has grown and matured with more and more people visiting every day — inevitably asking me to recommend the best slow-speed masticating juicers, high power blenders or nutritional products. So for the first time I've added a small selection of the best raw food products available to respond to your needs.
So now, when you click on the Products button in my main menu, you'll see some of my favorite raw food products for people interested in the Raw Food Lifestyle. This is not a huge catalog with hundreds of products — just a few that are special to me. You'll find plenty of information here you won't find anywhere else. In addition, all these raw food products meet my 10-point guidelines for quality & value!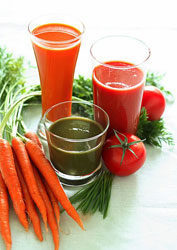 Sure, you may be able to buy a juicer for a bit less on "grey market" websites but they're probably not from raw foodists that actually care about you! Some catalog sites don't even have much detail at all — you have to research that on your own. On the other hand, I've spent years developing hundreds of raw food articles, recipes and other content based on solid, in-depth research so you can be an informed consumer!  Here's my 10-point list of guidelines for evaluating the products I like to recommend:
Food products should be 100% raw. So-called "transitional foods" can be an important part of making a transition to a raw lifestyle, and may not be 100% raw.
All food items should be 100% Certified Organic with rare exceptions that are from small, chemical-free small farms cannot afford the cost of Organic Certification.
Imported products should be committed to "fair trade," social justice and sustainable farming practices.
I may actually use many of these products myself or at least have tried them!
I must have a good personal relationship with suppliers that I and  my readers can trust.
My suppliers should share my sense of higher purpose and ideals that I have.
All products should actually make a difference in lives of my readers.
Products should be as unique or innovative as possible, things you just can't get cheaper on other websites.
Products should represent an excellent value — a combination of price, quality and customer service.
Suppliers must have a reputation for their commitment to customer service and support.
Also See: