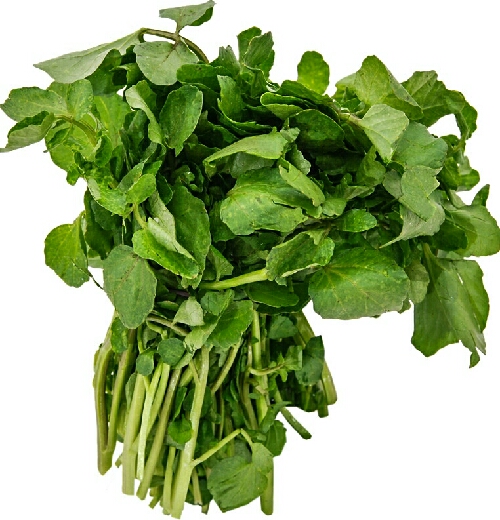 Watercress is the perfect powerhouse vegetable to protect you from free radical damage!
Anyone who is serious about their nutrition and cancer protection has probably heard about the importance of eating leafy green vegetables or making sure that they are eating from the rainbow! The question often comes up as to which vegetables are the best? All vegetables are better than processed foods but it is true that some vegetables offer more lifesaving benefits than others.
Researchers from William Paterson University ranked vegetables by 17 critical nutrients. In the study researchers examined food by the content of fiber, potassium, protein, calcium, folate, vitamin B12, vitamin A, vitamin D, and other nutrients. At the top of the list sits watercress with a perfect 100! (1)
Watercress ranks #1 with a perfect score of 100 on William Paterson University's list of "41 Powerhouse Fruits and Vegetables" list!
Watercress is an aquatic plant found near springs or streams. It is a leafy green plant that is a cousin to mustard greens, cabbage and arugula. It has small, round, scalloped leaves. Because this plant grows in water it should be soaked for half an hour or in cool water with hydrogen peroxide added to remove pollutants, parasites or impurities. The plant can be submerged in water and stored in the refrigerator for 2 or 3 days.(2)
Watercress earned its reputation around 400 BC when Hippocrates founded the first hospital on the island Kos close to a stream in order ensure that patients would have fresh watercress available for treatment.(2)
Hippocrates established a hospital close to a stream to ensure that patient would receive watercress daily!
Watercress is a great source of vitamin K, providing 312 percent of recommended daily value. Vitamin K helps strengthen bones, and protects against neuronal damage in the brain. The plant also proved 72 percent daily value of vitamin C and 64 percent daily value of vitamin A.
Vitamin C is helpful in fighting infection, maintaining connective tissue and preventing iron deficiency. Vitamin A helps the immune system function properly and produces pigments in the retina of the eye in order to prevent blindness! (2) It is also a great source of manganese as well as antioxidant flavonoids, B carotene, zeaxanthin, lutein, and B-complex vitamins! (2)
It's not often that one single food is pointed at for potential cancer protection, but the growing evidence suggests that watercress stands above any other 'superfood.'(3)
Watercress offer health benefits related to high levels of isothiocyanate. This is the same compound found in broccoli and cabbage. The South Hampton Breast Cancer study found a biological pathway in which the anticancer compound in watercress stops cancer develop-ment. The study concluded that there is a 22.9 percent reduction in DNA damage to white blood cells. They found that blood triglyceride levels dropped by 10 percent and there was a 100 percent increase of lutein in the blood and a 33 percent increase of beta-carotene in the blood!(3)
Watercress contains anticancer compound and stops cancer development!
Another study found that watercress stops human prostate cancer cells from growing and a third study found reduced risk in several different cancers with supplementing the diet with watercress! (3)
Researcher from University of Ulster found that eating watercress daily can reduce DNA damage to blood cells. The trial included 30 men and 30 women, half of whom smoked. Researchers gave them an 85 gram back of fresh watercress to eat daily for eight weeks. They found the most beneficial changes occurred among smokers. Smokers had significantly lower antioxidant levels at the beginning of the study. (4)
The study concluded that eating watercress daily reduced DNA damage but also increased the ability of cells to resist further DNA damage caused by free radicals! (4)
Eating watercress daily found to increase ability to resist free radical damage to DNA!
Watercress is highly versatile and can be used in salads, soups, and risottos. If you juice or make smoothies daily, throw a handful of water cress through your juicer or in your blender. It has a subtle peppery flavor and can also be used as a garnish to your favorite dish!
If you are not currently purchasing watercress on a regular basis, consider adding this item to your weekly grocery list. A daily portion will help your body fight free radical damage.
Sources:
http://www.washingtonpost.com/news/to-your-health/wp/2014/06/05/finally-a-list-of-powerhouse-fruits-and-vegetables-ranked-by-how-much-nutrition-they-contain/
http://foodfacts.mercola.com/watercress.html
http://www.watercress.com/cancer.aspx
http://news.ulster.ac.uk/releases/2007/2998.html
By Matt Monarch, September, 2015
Proprietor, TheRawFoodWorld.com
Also Read:
A Diet Rich in Berries Protects Against Cancer, Heart Disease & Alzheimer's!